Rikishi reluctantly puts suit on but can't tie the silk tie. Cash rolls his eyes and orders Mandy to fixes it for him. Mandy smiles and ties the tie and adjusts the collar around it.
Cash: We all good, let's roll to limo.
Cash, the B girls, Mandy and Candy, and bringing up rear Rikishi enter the limo. The Limo makes a scrapping sound and lowers to ground.
Cash chuckles: Man hope my shocks hold up till we get there. Rikishi gives Cash a dirty look.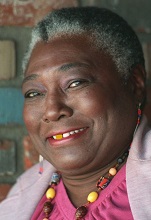 Meanwhile at Momma Money's Soul Food Restaurant.A large black woman barks out orders while she lifts two tables by her self.
Momma Money: Go on, needs get everything ready my baby coming for dinner and my future daughter in law. Good lordy, can't wait. Ring him again.
Cash's cellphone rings, before he can say anything he hears on line.
Momma Money: WHERE YO AT? You bringing my favorite white girl? When you gonna quit sitting on this engagement and make it legit? I can call yo Cousin Reverend Juan? She gonna make that peach cobbler when she get here?
Cash hands phone to Peaches
Peaches: Hi Momma Money, Yes I'll help make cobbler, No not sure when were getting hitched, well you know your son, he does what he wants when wants. (giggles)Yeah that's right, you know it.We're almost there Momma Money, no problem. Bye.
They file out limo and it lifts back to normal with a creek. Cash opens the door to restaurant and cowbell tied to door sounds
.
Momma Cash runs from kitchen throwing her apron on the counter and grabs Cash and Peaches up in bear hug swinging them around like rag doll. She drops them and they regain balance.
Momma Money: My babies, let me look at yo. Such a handsome couple. So when i getting my grand babies? (SMACK) aint getting any younger up in here. I want hold my grand babies before i kick off.
Cash chuckles and kisses Peaches on the cheek: Practice makes perfect, right hun.
Peaches blushes
Momma Money: Oh you so nasty, don't want here bout that punting and grunting from son, I gave you manners use them for (BEEP) sake. Who's this large fellow coming up behind you?
Rikishi takes his hat off and sets on table and try to sit on wooden chair. with CRACK! chair buckles underneath him and he crashes to the diner floor.
Momma Money: I know that N(BEEP) you blind sided my baby and JUST BROKE MY GOD DAMN CHAIR.
She jump splashes on top of him and grabs piece from broken chair and starts whaling on him. Cash,Mandy and rest separate them.
Cash: HOLD UP MOMMA! this my tag partner. Rikishi
Rikishi: What the (BEEP) Now know where the cow bell came from. Aint my fault you got shabby cheap ass chairs.
Momma Money throws the girls holding back to floor and smacks the snot out Rikishi swirling with verbal tongues (BEEP yo be disrespecting in my restaurant, I was gonna feed yo tub of (BEEP) ass, but no,can't believe yo big ass broke my sh(beep) then call me Cow look yo big ass , glass houses in Sh(beep)

The crew separates them again.
Cash: Hey you two STOP!, Do be injuryin him we got a tag match against Sasuke n Fawky or some such (beep) this week.
Cash picks up broken pieces of chair, and light bulb goes off. He pulls two chairs up to table and pulls Rikishi up.
Now sit, you need get that bug out yo big ass and man up.
reluctantly looks at floorRikishi: This is Bs, but whatever. Sorry.
Momma Money: That's sorry ass sorry i ever heard. You got low sugar honey lamb? you know diabeetus? I got get kind bitchy when i don't eat, when you eat last?
Rikishi: Dunno,havent been doctor in while haven't ate yet.
Momma Money: Oh snap, well most ready, got few courses anyway. Waiting for my white girl to make her cobbler for dessert. Ladies come kitchen, help momma out, let them boys talk.
Ladies leave to kitchen
Rikishi: Man, you momma is crazy woman.
Cash: Ain't telling me anything new. She's right though you need get in better shape. Don't want have friggin heart attack in ring G.
Rikishi: I always been big, even when I was kid. Kind of how learned to fight.
Ladies start bring out platters and set them on couple tables put together. Home made cornbread, honey and orange turkey with oyster, onion mix corn bread/ bread stuffing. Mash potatoes, Yams with melted marshmallow, sweet potato pie, home made mac and cheese with bits of baked ham, greens with bacon in apple vineger sauce, dinner rolls, homemade pumpkin butter, pumpkin pie and waiting on Peaches infamous peach cobbler.
Momma Money: Dig in boys, me and my white girl gonna finish up in kitchen. Girl talk.
Rikishi: Bout time charges to table pile up
plate high food on top food. Chaws a turkey leg on way to table.